A group therapy program provides a safe place to share your experiences with peers in recovery. This type of therapy involves three or more members who discuss addiction and learn about their disease. Groups also explore topics that relate to substance abuse, relationships, life skills, recovery and relapse prevention. All of this takes place under the guidance of a therapist who sets goals for the group and makes sure everyone stays on track toward those goals.
What is Group Therapy?
Group therapy is a type of counseling that helps to treat mental health disorders, substance abuse, and addiction. Many people benefit from group counseling due to peer support.
When you participate in a group therapy program, you gain support, greater self-awareness, self-confidence, and a clear view of what your peers experience during recovery. At the same time, you provide support for members who need it. They look to you for feedback and watch your progress to help them in their journey away from substance abuse.
Group therapies take place in detox, rehab and community service centers. There are also group therapy sessions and support groups available through mental health services, private medical clinics, and hospitals.
Benefits of Group Counseling Sessions
Group counseling provides many benefits. These therapies introduce you to other people going through addiction treatment and recovery. You also build relationships, learning alongside your peers. You see you do not walk alone on your path to sobriety.
In this group setting, you share experiences. You also gain insight from others' experiences. You learn how to stop engaging in negative behaviors while practicing healthier ones. All of this builds your self-esteem and confidence in dealing with others.
A group therapy program assists in the treatment of: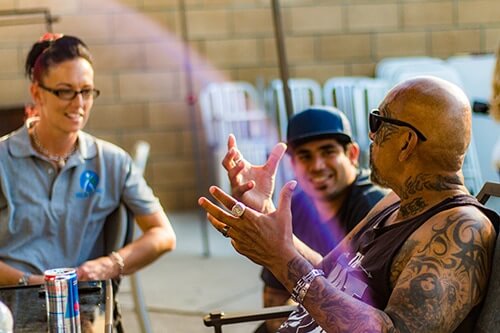 Alcohol addiction treatment
Smoking and tobacco use
Prescription painkiller addiction treatment
Opiate addiction treatment
Stimulant, depressant and antidepressant abuse
Hallucinogen abuse
Narcotic abuse
You get the most out of your group sessions by keeping yourself open to what you can learn. Giving and accepting feedback helps yourself and others during group. Spending time balancing listening and sharing will help you get the most out of a group therapy program.
Six Stages of Group Therapy
Therapists guide the group through six stages. These stages include the time before you consider changing your behaviors, called precontemplation. You feel almost forced to attend group sessions during this stage.
During contemplation, you start thinking about quitting your substance abuse. The preparation stage includes planning to quit your substance abuse while seeing your drugs cause harmful consequences. The action stage involves taking your first steps toward lasting sobriety, making real changes in your life.
When you reach the maintenance stage of your group therapy program, you're doing your best to remain drug-free. During this time you focus on avoiding relapse. You may even achieve complete recovery in the maintenance stage.
Recurrence takes place in group treatment when you suffer a relapse. You return in one of your earlier stages of recovery, quickly rebuilding your sobriety. You also rebuild with better awareness and understanding of what caused you to relapse.
A Group Therapy Program in a Los Angeles Rehab
In Los Angeles, Restorations Health Care Group provides a full spectrum of addiction treatment programs for adults struggling with opioids and other substances. This treatment starts in detox and continues through inpatient rehab. Inpatient treatment at Restorations Health Care Group includes:
Detox program with 30-day Suboxone tapering
Evidence-based therapy
Adventure therapy program
Experiential therapy program
Family therapy program
At Restorations Health Care Group you can dream of a better life. You just need the right help to get you to that life you imagine. Contact Restorations Health Care Group now at (877) 578-0708 for more information about available programs.
Schedule an appointment today.
More Addiction Therapy Services
Addiction Therapy Services
The caring specialists at Restorations Health Care Group want to help you overcome a drug or alcohol problem. Contact us for help today
Cognitive Behavior Therapy
Few evidence-based therapies are more well known than a cognitive behavioral therapy program. It's a popular choice for people who need to overcome addiction.
Dialectical Behavior Therapy
Psychiatrists use this counseling method for numerous mental illnesses. Borderline personality disorder, bipolar disorder, and PTSD are a few examples.
Individual Therapy
This addiction therapy gives you the privacy and trust you need to discuss issues leading to your substance abuse and addiction.
Group Therapy
This type of therapy involves three or more members who discuss addiction and learn about their disease. Learn more by clicking below.
Family Therapy
This is a form of group therapy, usually for families with one or more members who suffer physical, emotional or mental health problems.
Psychotherapy
Psychotherapy is the treatment of mental health through ways other than taking medications. Learn more by clicking the button below.
Experiential Therapy
One of the best ways to learn about yourself and to stay clean is through the method of an experiential therapy program.